A clipping is a patcher file that contains something you use often and don't want to have to constantly re-create as you work. Max includes a collection of clippings, and you can easily add your own.
Control-click (Mac) or right-click (Windows) in blank space in an open Patcher window to show the patcher contextual menu. Choose the clipping you want from the Paste From submenu. The clipping will be pasted into your patcher window, ready to use or edit.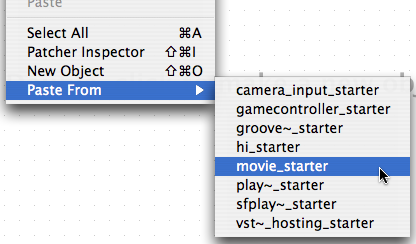 Create a patcher you want to use as a clipping.
Choose Save As... from the File menu and save the patch to the clippings folder inside the patches folder inside your Max application folder.
The clipping you have created will be added to the Paste From menu.