The file browser preview pane, located in the lower portion of the file browser window, provides you with in-depth information about a file.
Click the the Show Preview button in the toolbar to show the Preview area. The preview area will be displayed and the toolbar icon label will change to Hide Toolbar.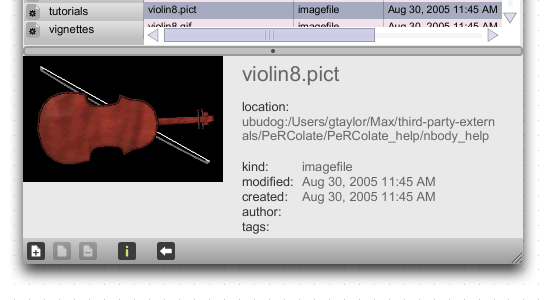 The visual contents of the preview pane will vary according to the type of file you have selected.
Media files such as audio files and QuickTime movies permit you to watch and/or listen to the file.
Image files will display a small copy of the image.
The contents of documentation files will be displayed in the preview area. You can open the document in a separate window by double-clicking on its name.
Max object files provide links to open the object's help file and reference page, as well as a brief description of what the object does.
All other types of files or folders will list information such as type, location, and modification date.