The beginning Max for Live tutorials are presented as a series of Live Sets. These tutorial sets include a sequence of tutorial devices - one device per Track. Each set explores a specific topic that covers how Max for Live itself works, and how different kinds of devices are constructed. The tutorial devices are arranged in order, from simple examples to more complex patches, Each tutorial device is a fully functional Live device, and each subsequent tutorial develops and expands upon topics covered previously.
Click on a File button in Live's File browser and choose Library from the pull-down Bookmarks menu to show the Library.

Click on the arrow to the left of the folder marked Lessons.

Click on the arrow to the left of the folder marked Setsto show the Lessons sets. Each lesson will be displayed as a session document.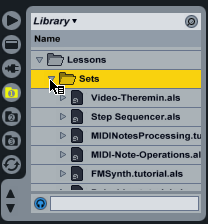 To load a tutorial, double-click on a Live session document. All of the tutorials in the lesson sequence will be loaded as separate tracks.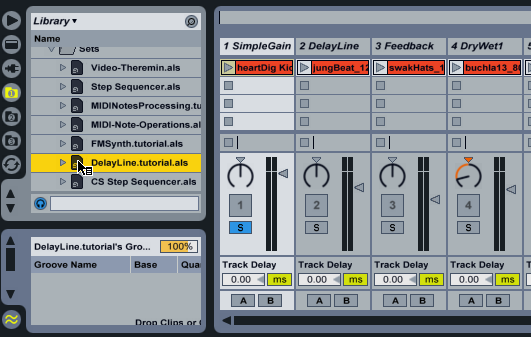 To view a specific tutorial, click on a track. The tutorial patch will appear in the Live device rack.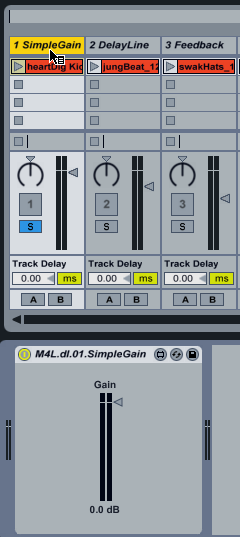 Click on the Edit button in the Device Title Bar to open the device and launch Max for Live.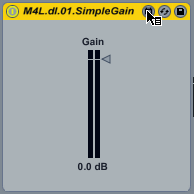 To see the tutorial text, click on the Patching/Presentation button located in the toolbar of the Max Patching window.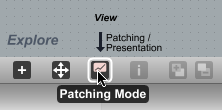 M4L.md.01.MidiInOut.amxd: Display and output incoming MIDI messages
M4L.md.02.MidiNote.amxd: Display and output incoming MIDI note messages
M4L.md.03.MidiSelect.amxd: Output raw MIDI data selectively
M4L.md.04.Transpose.amxd: Transpose MIDI pitch using the plus object
M4L.md.05.MIDIChord.amxd: Transpose a MIDI pitch several times to create a chord
M4L.md.06.FixDuration.amxd: Filter out incoming note-off messages and specify a duration for every output note
M4L.md.07.DelayNotes.amxd: Insert a delay between input and output notes
M4L.md.08.MidiEcho.amxd: Mix input notes together with delayed notes for an echo effect
M4L.md.09.Feedback.amxd: Create a delay feedback loop (an introduction to patcher encapsulation)
M4L.md.10.Arpeggiate.amxd: Transpose delayed notes
M4L.md.11.MetricalTiming.amxd: Using the Live application to set times
M4L.md.12.TimeSync.amxd: Control the delay times using either fixed or tempo-relative time values
M4L.dl.01.SimpleGain: Create a simple gain control
M4L.dl.02.DelayLine: Create a stereo delay line
M4L.dl.03.Feedback: Add a feedback loop to the delay line
M4L.dl.04.DryWet1: Adjust the balance between "dry" and "wet" signals
M4L.dl.05.DryWet2: Simplify the control of dry/wet signals balance
M4L.dl.06.Encapsulation: Use encapsulation to tidy things up
M4L.dl.07.Panpot: Create a panpot control
M4L.dl.08.CustomDelay: Create a clickless variable delay for use anywhere
M4L.dl.09.BeatSync: Control the delay times using either fixed or tempo-relative time values
M4L.dl.10.Filter: Filter a signal using a convenient graphic interface
M4L.dl.11.FilterDelay: Insert a filter into the delay line t create a filter delay with feedback
M4L.dl.12.Transposer: Transpose an audio signal using a frequency-domain pitch shifter
M4L.dl.13.Harmonizer: Insert a transposer into the delay line to create a harmonizer with feedback
M4L.fm.01.SimpleOsc: Generate and output a pure sinusoidal waveform
M4L.fm.02.FreqMod: A very basic Frequency Modulation (FM) patch
M4L.fm.03.HarmMod: Exploring the relationship between carrier and modulator frequencies
M4L.fm.04.OscWaves: Using stored wavetables
M4L.fm.05.Encapsulation: Use encapsulation to tidy things up
M4L.fm.06.Envelopes: Control brightness and amplitude over time
M4L.fm.07.MidiNote: Add MIDI control to the synth
M4L.fm.08.Polyphony: Using the poly~ object to make chords
M4L.fm.09.LFO&Tremolo: LFO and tremolo as enhancements to the FM synth
M4L.fm.10.TotalRandom: Using presets to explore the sound possibilities
M4L.bg.01.MakeNote: Generate MIDI notes with fixed durations
M4L.bg.02.Metronome: Automate the generation of MIDI notes
M4L.bg.03.LiveObjects: Take advantage of Live's automation features
M4L.bg.04.DrunkMetro: Create a self-modifying metronome
M4L.bg.05.BouncingMetro: Increase/decrease the rate of a metronome
M4L.bg.06.MetricalTiming: Using the Live application to set tempos
M4L.bg.07.DrunkAgain: Generate random beats using metric timing
M4L.bg.08.WeightedBeats: Yet another way to generate random rhythms
M4L.bg.09.Cycling: Generate a note every n beats
M4L.bg.10.SteadyRandBeats: A combination of weighted beats and cycling
M4L.bg.11.Encapsulation: Use encapsulation to tidy things up
M4L.bg.12.Probabilities: Use a simple filter to add rhythmic articulation
M4L.bg.13.NoComments: Making patches easier to use
M4L.bg.14.StepSequencer: Store MIDI notes and play a sequence of notes in sync with Live
M4L.bg.15.AllTogether: Combining the rhythm generator and step sequencer