pp
Define a plug-in parameter
Description
Note: plug-in building for hosts other than Ableton Live is no longer supported. For more information to help you make the transition to creating plug-ins in Max for Live, see Max for Live for Pluggo Developers.

The pp object (an abbreviation for plug-in parameter) defines plug-in parameters. It has a number of optional arguments that let you define the parameter minimum and maximum, hide the parameter from display, set the color of the egg slider associated with it, etc. You connect the output of the pp object to something you want to control with a stored parameter. If your plug-in will use a Max patcher interface, you need to connect the interface element that will change the parameter's value to the inlet of the pp object. The pp object will send new parameter values out its outlet at various times: when you move an egg slider, when the user switches to a new effect program, and when the host mixer is automating the parameter changes of your plug-in.

Internally, the pp object and the runtime plug-in environment store values between 0 and 1.0. By giving the pp object optional arguments for minimum and maximum, you can store and receive any range of values and the object will convert between the range you want and the internal representation. If for some reason you want to know the internal 0-1.0 representation, you can get it from the object's right outlet. If you want to send a value that is based on the internal 0-1.0 representation, use the message.
Arguments
| Name | Type | Opt | Description |
| --- | --- | --- | --- |
| | | | The pp object takes a number of arguments. They are listed in the order that they need to appear. |
| int | int | | Obligatory. The first argument sets the parameter number. The first parameter is 1. Parameter numbers should be consecutive (but they need not be), and two pp objects should not have the same parameter number. An error will be reported in the Messages view of the runtime plug-in environment if duplicate parameter numbers are encountered. |
| hidden | symbol | opt | If the word plugmod object. |
| fixed | symbol | opt | If the word |
| c2 | symbol | | - |
| symbol | symbol | opt | The next symbol after any of the optional keywords names the parameter. This name appears in the Name column of the Parameters view and in the pop-up menu generated by the plugmod object. |
| float or int | float or int | opt | After the parameter name, a number sets the minimum value of the parameter. The minimum and maximum values determine the range of values that are sent into and out of the pp object's outlets, as well as the displayed value in the Parameters view. The type of the minimum value determines the type of the parameter values the object accepts and outputs. If the minimum value is an integer, the parameters will interpreted and output as integers. If the minimum value is a float, the parameters will be interpreted and output as floats. |
| float or int | float or int | opt | After the minimum value, a number sets the maximum value of the parameter. The minimum and maximum values determine the range of values that are sent into and out of the pp object's outlets, as well as the displayed value in the Parameters view. |
| symbol | symbol | opt | After the minimum and maximum values, a symbol sets the label used to display the units of the parameter. Examples include |
| choices | symbol | opt | If the word |
| db | symbol | opt | If the word |
Messages
| | | |
| --- | --- | --- |
| bang | | Sends the current value of the parameter out the object's right outlet in its internal (unscaled) form between 0 and 1.0, then out the object's left outlet scaled by the object's minimum and maximum. |
| int | parameter number [int] | In right inlet: Sets the current value of the parameter without any output. The incoming number is constrained between the minimum and maximum values of the object. |
| float | parameter value [float] | In right inlet: Sets the current value of the parameter without any output. The incoming number is constrained between the minimum and maximum values of the object. |
| disable | parameter number [int] | The word visually disabled (i.e. clicking on it is disabled). |
| indicator | parameter number [int] | The word visually disabled. |
| poke | parameter number parameter setting (0. - 1.0) [float] | The word |
| rawfloat | parameter value [float] | The word |
| text | text to be displayed [symbol] | The word |
| set | parameter number parameter setting (0. - 1.0) [list] | The word |
Attributes
| Name | Type | g/s | Description |
| --- | --- | --- | --- |
| sendto | symbol | | Sets up a forward object for remote sending of parameters. |
Output
Examples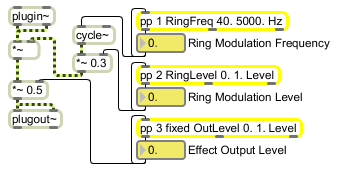 See Also
| Name | Description |
| --- | --- |
| plugmultiparam | Define an array of plug-in parameters |
| plugstore | Store multiple plug-in parameter values |